Addressing Water Stains On Ceiling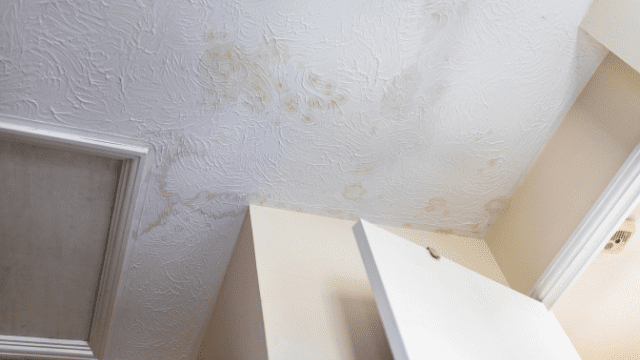 Think about this for a few moments: Imagine you've just gotten home from your dream vacation, and you're starting to unpack and prepare for life to get back on track as you settle back into work. While unloading your luggage you happen to glance up, and the feelings of happiness and relaxation gained from the vacation are sunk instantly. In your absence, it appears there is a strange water stain on the ceiling. 
You're certain it wasn't there before you left, and now its unsightly appearance looms tauntingly overhead. A water stain on the ceiling is something no property owner wants to see, and today United Water Restoration Group of San Antonio is here to give you some insight on what may be the cause, and how best to confront the issue.
Water Stains On Ceilings And You
Water stains on ceilings have something in common regardless of their root cause; there's moisture there that shouldn't be, and it's showing itself in the form of a growing water stain on the ceiling. In a larger building, specifically multi-story, the leak could be from a bathroom above your location, while in the case of other structures it could be from an external breach that's allowing in an amount of rainwater over time. 
There's a lot of things that could be the cause, and all of them spell bad news for you. The most important thing to remember is not to panic, and don't assume that the source of the moisture is right above the stain. Above all remember, the stain is a symptom of an underlying cause, it's the least of your worries.
You're going to want to enlist the aid of professionals. A water stain on the ceiling means the water has to be coming from elsewhere, and if it's enough to cause a stain that means there is certainly water damage other than the water stain on your ceiling. 
What's worse, it's also promoting the possibility of mold growth and if left unchecked both the water damage and mold growth will worsen. Trying to ignore the problem will only make it worse with time. Turning to professionals that deal with different types of water damage professionally is your best way to confront the issue.
Give Us A Call Today
United Water Restoration Group of San Antonio employs only the best technicians with the training and equipment to diagnose the source of your water damages beyond the water stain on your ceiling, trace it back to the source, and eliminate the problem. 
Our staff is standing by to take your call 24/7 at (830) 243-6060. When you're in need of the best professionals you can get, don't hesitate to give us a call.