Disinfecting & Cleaning Services in San Antonio, Texas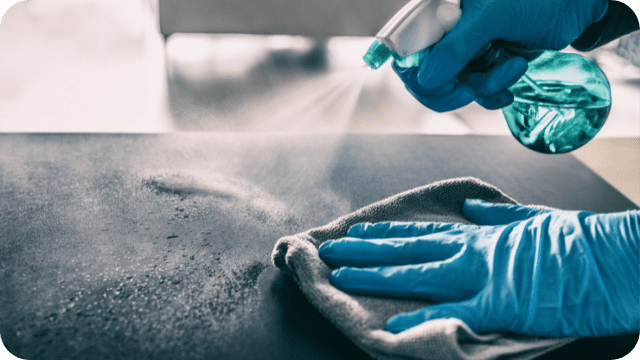 United Water Restoration Group of San Antonio, Texas handles professional disinfecting and cleaning services. Our services will assist in the protection against potential harmful viruses and pathogens. These services will provide an extra layer of protection for your commercial or residential property. We recommend utilizing our services if you are a business with a consistent heavy traffic volume. With all of those people traveling in and out of your business bacteria is bound to be transferred between people.
Our technicians in San Antonio, Texas will thoroughly analyze each property before beginning sanitization. They will carefully look over every touchpoint (i.e. doorknobs, sinks, toilets, handles, and light switches) and hard-to-reach-areas, treating each with a deep clean. Surface cleaning can help provide an extra layer of protection from the harmful pathogens manifesting on your surfaces. Letting the bacteria build-up can be harmful, especially for your workplace – causing people to get sick more often. Disinfecting and cleaning services are ideal after large social gatherings, this will help cleanse any pathogens left behind!
We adhere to government-regulated guidelines as well as strict instructions on each product we use. Each germicidal we use is approved by the EPA, providing a safe and effective clean. All of our techs also wear OSHA-approved gear to keep them safe as well as the CDC's recommended methods.
We provide services 24-hours a day, 7 days a week, 365 days a year from our San Antonio, Texas location. We do provide emergency services for all of our other restoration services, however, disinfection and cleaning are not included in this. We will schedule appointments for these services and accommodate whatever best fits your schedule at (830) 243-6060! These services focus on providing a safe and clean environment. When our experts are done with your property, it will be a spotless and safer place for people to visit or live in.
Read What Our Disinfecting & Cleaning Service Customers Are Saying​
"United Water Restoration and their staff are amazing! Thanks for the sanitizing of our business and peace of mind!! Appreciate your punctuality and accommodating our schedule as well. You can count our recommendations and business, ALWAYS!"
"Amazing company! Very recommended! Fastest response nice people great service! Keep up the good work!"