Mold Damage Remediation Services in San Antonio, Texas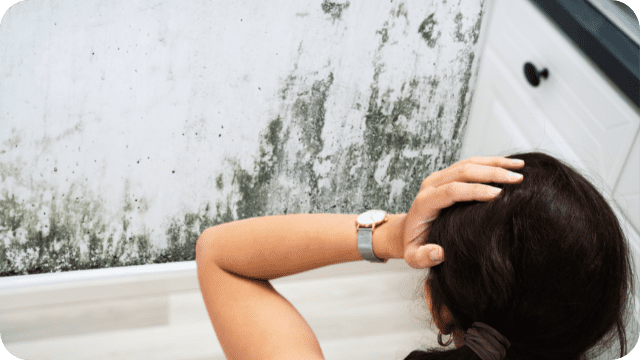 Every mold problem is different and mold remediation methods for one mold outbreak may not be the same as a mold outbreak in a different area. The main goal during mold remediation is to address any moisture issues within your structure, remove the mold colony from its point of origin, and eradicate remaining spores from the air and surfaces, while also preventing future outbreaks by eliminating mold growth factors that may cause mold to return.
United Water Restoration Group's mold remediation experts will request to send several samples of mold for lab analysis from the infested area. We will use this information to determine how much mold is present and verify it is actually mold. This data is then used by our mold remediation technicians to develop an effective mold removal plan that utilizes the correct mold removal tactics to ensure the complete eradication of mold colonies without causing any harm to your home or workplace. Following the removal of the mold colonies, we will sanitize the area with antimicrobials to ensure the colonies have been dealt with.
Our mold remediation team in San Antonio, Texas will be there by your side from start to finish, informing you of every step we do. We are available 24 hours a day, 7 days a week, 365 days a year for any mold remediation emergency you discover. It is important to remove mold as soon as you spot it. Mold can spread rapidly under proper circumstances, making it harder to remove the more area it covers. While mold is known to be hazardous to our health, it can also cause structural decay.
We recommend contacting our United Water Restoration Group mold restoration professionals in the San Antonio, Texas area at (830) 243-6060 as soon as you spot an infestation. Our team can effectively remove any infestation without further spreading the colonies. Give us a call for a one-stop, mold remediation company that can do it all!
Read What Our Mold Remediation Customers Are Saying​
"Mark and Torres were prompt, responsive, communicated well, and moved our items with better care than we probably could have done! Quite a feat for men whose trade is destruction, but we needed to make sure the mold and water damage was eliminated for our health and the health of our newborn. Thanks guys!"
"I would give them a million stars if I could! Affordable, professional, and just all around great team!"